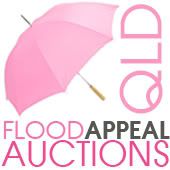 Im holding an auction for the Queensland Flood Appeal and I thought what better thing to offer up than my first ladies wrap dress. Im new to this auction thing but dont want to hold back just because I dont know what to do. Yet. Some people are starting on Monday morning but im ready to go so...
Its starts now!
The dress is a size ten but as usual with my clothing it is a roomy fit so could fit 10-12.
Plus keep in mind its an adjustable wrap style.
The length goes to just below the knee on average height.
I think this would suit most ages too.



So that I didnt miss anything out ive just copied this from Toni's page over at Make It Perfect.
How this auction works:
1. Bidding will start at $20 (Australian).
2. You can place a bid by leaving a comment on this blog post with your bid amount and email address. Please make sure that your bid is higher than the previous bidder.
3. Your bid must be in whole dollar increments.
4. This auction is open to everyone, however $25 will be charged for International addresses. Postage is FREE for Australian residents.
5. The auction begins NOW and will END at 9am on Monday 24th January 2011.
6. At the close of the auction, I will contact the winner (please make sure your bid comment includes your email address). The winner will pay the winning amount directly into the
Premier's Flood Relief Appeal
and send me proof of payment via email. Once proof of payment has been received, I will post your dress to you.
7. Thankyou for participating and happy bidding! !
I hope I havent left out any details but welcome any questions you might have
regarding the dress or the auction.