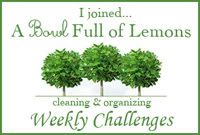 I stumbled across this challenge over at
A Bowl Full of Lemons
after reading my friend
Samantha's blog
lately and on a whim decided to put my name on the list. I probably wont have much to offer all the other ladies who have joined in, as, even though I think I do lots of housework everyday, im not that organised, but ill be paying attention to all the hints and tips that come from others!
I really need the kick start when the weekly routine goes back to normal and im wondering what to do with all my spare time, hah.
I want to get organised! It sure sounds like the sort of thing that can get me motivated. Check it out. Before you know it, youll be joining along for the ride too.